Gambling in the Nordic countries
4 Dec 2017
The Nordic countries have taken different routes in their gambling policies. Denmark opted for a licence-based system for the gambling market in 2012, while Sweden will probably replace its gambling monopoly system with a licensing system as of 2019. In Norway the gambling monopoly has been strong up to now, as has been the case in Finland where three monopoly operators were merged into one big monopoly company at the start of this year. Iceland has a system that lies somewhere in between.
Iceland has no state gambling operator. Instead, all gambling activities are restricted to non-state institutions and charity organisations with a licence.
There are now also few gambling monopolies in the European context. Apart from Finland and Norway (and Sweden, although the situation there will change in the near future), only Luxembourg has a monopoly on all gambling.
In Sweden gambling companies without a licence have taken over more than 50 per cent of the internet gambling market, and this is one of the reasons why the country wants to switch to a licence-based system. In Norway the proportion is much smaller, but although Norwegian gamblers are not increasing in number on the unregulated market they are spending more money than before.
Between 60 and 80 per cent of Nordic citizens state that they have engaged in gambling of some kind at least once over a 12-month period. The Finns are a nation of keen gamblers judged by international standards as well. In 2015 no less than 80 per cent had engaged in gambling at least once during the past year.
Lotto and other lotteries are the most popular games in the Nordic countries. In Finland slot machines, which are available in places such as supermarkets and petrol stations, are especially popular.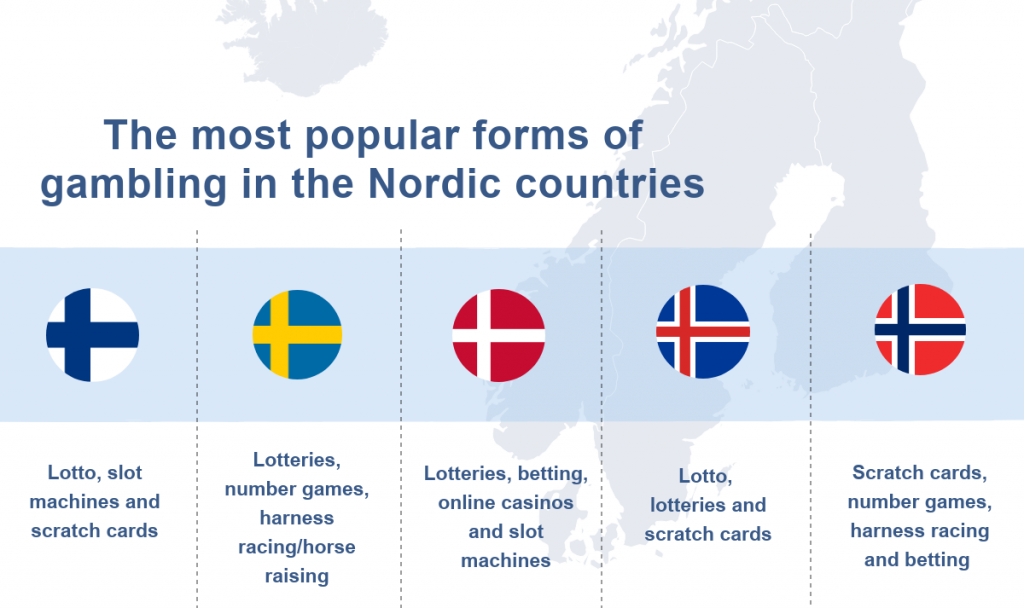 In Denmark one of the reasons for the dismantling of its gambling monopoly system was the desire to protect consumers from the illegal gambling market that had been created in conjunction with online gambling. Statistics show that after this change a slightly larger proportion suffer from gambling problems but that the proportion of money spent by consumers on gambling is the same.
There is an increasing focus on gambling abuse in the Nordic countries. In Sweden, for instance, the Social Services Act is being amended as of the start of next year so that the social welfare committees at municipal level will address gambling abuse in the same way that they do alcohol and drug addiction.
Between two and three per cent of Nordic citizens who engage in gambling have gambling problems: either gambling behaviour involving risk or gambling abuse.
Sources: University of Iceland, The Danish Gambling Authority, The Danish National Centre for Social Research, the Swedish Gambling Authority, The National Institute for Health and Welfare, University of Bergen.
The Nordic Welfare Centre arranged an international conference on gambling in Helsinki on 6-7 November 2017:
1st Gambling Policy Conference: Global Prospects, Nordic Perspectives